Woorabinda Police ensure safety for historic 210km walk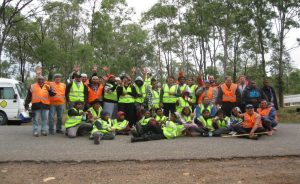 A 210km walk was undertaken by Woorabinda residents to honour the 1926-1927 journey their ancestors took from the Taroom settlement to the Woorabinda settlement.
The Woorabinda Aboriginal Shire Council in partnership with many support agencies including Queensland Police Service, Queensland Health, Darumbal Community Youth Service and Australian Red Cross organised and participated in the reconciliation walk.
The walk was held over a seven day period commencing on Sunday June 26 and involved some fifty registered walkers along with a number of event marshalls and support staff.
The walkers passed through Taroom, Moura and Baralaba police divisions without incident, with all participants gaining a cultural understanding and respect for those who trekked all those years ago.
The event organiser, Leslie Purcell from Darumbal gained sponsorship for safety vests. Event marshalls and support staff were provided with reflector orange vests while the walkers were provided with lime reflector vests.
Leslie Purcell thanked local police for their support.
"Police helped to ensure everyone was kept safe throughout this historic and culturally significant walk," Ms Purcell said.
The safety of these walkers and support staff was seen to be a priority so Woorabinda Police were happy to assist in any way possible.
Officer in charge of Woorabinda Police, Senior Sergeant Kris Richards, said police were happy to be involved.
"The safety of all involved was our first priority.  When we were asked to contribute, I saw it as a great opportunity for us to engage with the community while actively participating – so we were happy to help." Senior Sergeant Richards said.
The walk finished on schedule Sunday July 3 which was just in time for the commencement of planned NAIDOC Week celebrations in Woorabinda.