2015 Youth Interagency Sexual & Reproductive Health Forum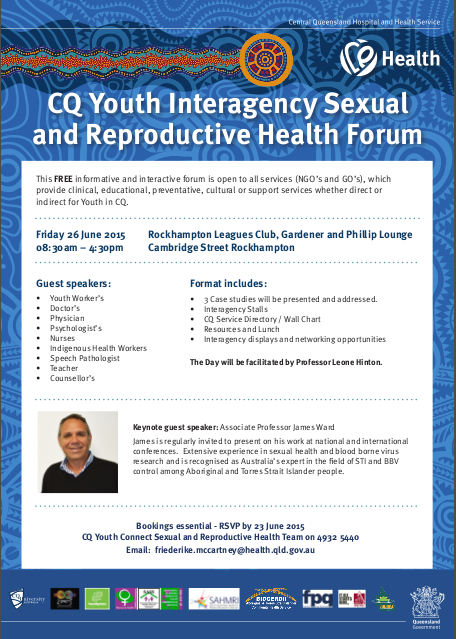 Please find attached below 2015 Forum Flyer "CQ Youth Interagency Sexual and Reproductive Health Forum" which is a fantastic opportunity to, Update, Interact, Network, Receive resources, with the keynote guest speaker Associate Professor James Ward and other fantastic guest speakers, including Youth Services from various sectors being from, Education, Research, Clinical, Community.
Last year's Forum feedback was outstanding; don't miss out, limited seats.  If you wish to receive last year's Forum report, please email your request and I will endeavour to forward this.
Friederike McCartney
Clinical Nurse Consultant, CQ Youth Connect Coordinator
Sexual/Reproductive Health
Division of Subacute & Community Services
CQ HHS
82-86 Bolsover Street, Community & Public Health Rockhampton, QLD 4700
PO BOX 501
t. 07 49 325440
e. Friederike.McCartney@health.qld.gov.au | www.health.qld.gov.au
P1089 CQ Youth Interagency Sexual and Reproductive Health Forum 2015 v1.0