On Thursday the 4th of February we are starting our Anger Management for Women workshop.
This workshop is weekly for four sessions; women will have the opportunity to increase their self-awareness whilst learning about how to express anger in a healthy way and by utilizing practical skills. We provide a safe, supportive and confidential environment for women to participate. This workshop is always fun, and whilst participants may be nervous at the start, they quickly relax and contribute to the group as well as have a laugh.
Women only need to provide a gold coin donation to attend each session; resources and light refreshments are provided. If a woman cannot give a donation, they will not be excluded.
Registration is necessary for attendance.
I've attached a flyer for further information. Please feel free to share it around to anyone who may be interested.
If you have any questions, please do not hesitate to contact myself: Chantelle (counsellor3@womenshealthrockhampton.com) or Rebecca (sassrebecca@womenshealthrockhampton.com) or via phone on (07) 4922 6585.
After the cyclone, we needed to reschedule our Anger Management workshop for women, but we are back on track now, and the workshop is set to start on Thursday, March 19th at 9.30am. Please see the attached flyer for further information, and distribute/display as you wish; registration is necessary to assist with resources and catering.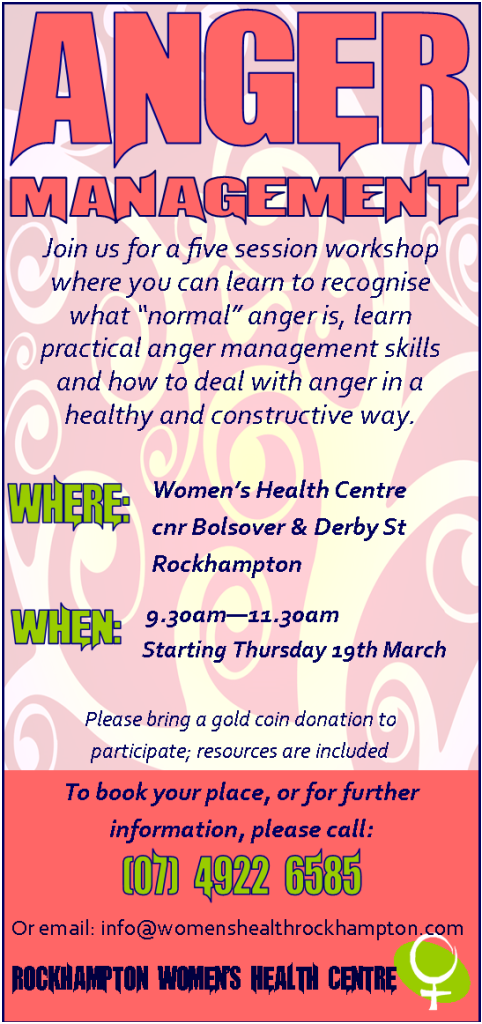 Monday to Friday 9.00am to 4.30pm
225 Bolsover Street, Rockhampton 4700
PH: 4922 6585, 1800 017 382 FAX: 4922 2477
PO Box 472, Rockhampton 4700